Lordship & Ladyship Title Packs
Purchase a personal Lordship or Ladyship Title Pack with dedicated land in Scotland.*

Our Title Packs are based on a historic Scottish land ownership custom, where landowners have been long referred to as "Lairds", the Scottish term for "Lord", with the female equivalent being "Lady".

*This is a purchase for a personal dedication for a souvenir plot of land. You may choose to title yourself with the title of Lord, Laird or Lady. 
Every Lordship or Ladyship title pack contributes to the preservation and protection of woodland areas in Scotland. As the intention is for the land to be kept in its natural state, we ask that all interested parties do bear this in mind.
Each pack contains:
One square foot of dedicated land on a private estate in Eddleston, Scotland and a printable certificate with a crest, making it the perfect gift for anyone, anywhere. 

The intention of these packs is to provide a fun, novelty product for those who want to purchase something a little different for themselves, friends and family, all while simultaneously preserving and protecting woodland in Scotland.
While many love their Lordships and Ladyship title packs, we do understand that it may not be for everyone and so we have a no-nonsense refund policy. If you would like to take advantage of our refund policy, do contact us at contact@establishedtitles.com and we will be sure to assist.
The Established Titles Nature Pledge:
Established Titles is committed to the preservation and protection of woodland areas in Scotland. As part of our concerted efforts, Established Titles has pledged to keep the entire woodland free from any other uses except for the peaceful enjoyment of the land, thereby protecting the biodiversity of the flora and fauna of the area. We have further pledged to protect the land from being disturbed by construction, sporting, driving or other similar activities.
Established Titles donates to One Tree Planted and Trees for the future to help with our tree planting efforts.
Established Titles are committed to planting at least one tree for every order placed.
Over
2,387,590
trees planted around the world through Trees for the Future to help global reforestation efforts. Established Titles is also engaged in projects to donate to plant trees in Scotland.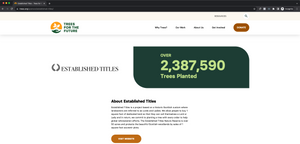 Testimonials
*Please note that images below may be illustrative only
Bought these as a Christmas gift for family members and they loved it! This is a great gift for the person who has everything.
I bought adjoining little lots for my husband and me. It was one of the most surprising presents he's ever received. He loves it. His son has taken to occasionally along him Lord Dad and it's been a source of great fun. I am very glad I bought the titles. 🙂
My wife loved her Birthday gift. She said it was totally unexpected and she hung the framed proclamation right away, and shows it off to everyone. It's been a lot of fun and went over better than I expected.
My husband LOVES his gift! Since I gave it to him he will pull his "Lord" status to get out of any chore I ask him to do!! Lol it has become such a fun part of our family. I will yell "Jeremy can you take out the trash?" And he will reply "Lords don't take out trash Amber!!" This has given our family a lot of happiness and our girls will have so many memories of their father being "Lord of the house!'
I gave this to my husband for Christmas with both our names, of course! He loved it! Now our family calls us Lord and Lady and it makes my husband smile!!! What a great gift to boost the spirits! We can't wait to visit Scotland someday!