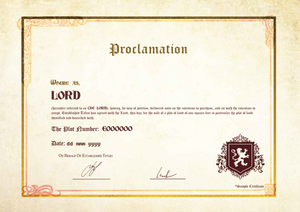 Name of the Title Holder
---
Frequently Asked Questions:
Do I need to be of a certain nationality in order to buy a title pack?
No, you do not - our title packs are available to all nationalities and ages.

Can I refer to myself as a Lord or Lady?
Yes, our title packs are based on a historic Scottish land ownership custom where landowners have been long referred to as "Lairds", the Scottish term for "Lord", with the female equivalent being "Lady". Most jurisdictions will allow you to update your title when you choose to do so.

Can I use the titles of Lord or Lady on my documents?
Our Lords and Ladies have successfully changed their title on many credit cards, airline tickets, hotel reservations and more.

Can I buy the title pack for someone else?
Yes - all we require is their name.

Can I choose my plot number?
Plots are numbered consecutively and assigned automatically; unfortunately we are unable to guarantee or assign a specific plot number.

How will my digital certificate be sent to me?
Your personalized digital certificate will be emailed to you within 24 hours. You can print this out and use it as you wish!

Can I print out a digital certificate and display it?
Of course!
I ordered a printed certificate - when will I receive it?
We aim to fulfil orders of printed certificates within 10 business days.
What are souvenir plots?
The plots of land themselves are recognised and referred to as 'souvenir plots' in Scotland. Though souvenir plots are typically too small to be registered with the Scottish Land Registry directly, we maintain our own private records and take our arrangements with our Lords and Ladies very seriously.

Where are the plots?
You can find the details of our estates in Ardallie, Aberdeenshire, Dunfermline, Southwick, Dumfries and Galloway, Aberdeenshire, Wigtownshire. Please refer to your certificate to see where your plot is located or use our where's my plot page with your unique plot number to locate your plot. All locations are beautiful and secluded woodlands.
Can I build on my plot?
Every Lordship or Ladyship title pack contributes to the preservation and protection of woodland areas in Scotland. As the intention is for the land to be kept in its natural state, we ask that all interested parties do bear this in mind.
Can I get a refund on my order?
The intention of these packs is to provide a fun, novelty product for those who want to purchase something a little different for themselves, their friends or their family so we offer a 60 day no-nonsense refund policy. You can find more about this here.